Alzheimer's is a slow-moving disease that affects memory and cognitive function. A form of dementia, Alzheimer's is a particularly difficult to treat condition, rendering patients increasingly disabled over time.
Although medical researchers are continuously working on a cure for Alzheimer's, they have not found one yet. This makes early diagnoses key in preventing the spread of the disease, with clinical trials, therapy, exercise, and proper diet having been shown to slow the progression and alleviate symptoms. Even with early diagnoses, once Alzheimer's has progressed past a certain point, everyday life may become difficult or even unsafe for those affected.
If you or a loved one is dealing with Alzheimer's, t's important to consider Alzheimer's and self-care. This article will help you determine if self-care is no longer possible, and some of the top care options for Alzheimer's patients.
What is Self-Care?
Ever heard of self-care before? If not, you've probably heard of primary care or secondary care. Self-care is defined by the World Health Organization as…
'Self-Care is what people do for themselves to establish and maintain health, and to prevent and deal with illness. It is a broad concept encompassing hygiene (general and personal), nutrition (type and quality of food eaten), lifestyle (sporting activities, leisure etc), environmental factors (living conditions, social habits, etc.) socio-economic factors (income level, cultural beliefs, etc.) and self-medication.'
Basically, self-care means you are able to function effectively both in public and private settings. Someone who is capable of self-care will exhibit the following behaviors:
Showers or bathes regularly, keeps up with oral hygiene, wears washed clothing, trims nails and hair when needed

Prepares meals without the assistance of others, eats a diet that mostly adheres to HHS standards
Practices mobility/walking/climbing with or without the assistance of technology
Takes an interest in things like sports, hobbies, home projects, games, or anything that involves mental or physical activity
Maintains an acceptably organized or cleanly home or domicile, is responsive to phone calls or visitors, is willing to leave home to complete tasks like grocery shopping or doctor visits
Is not in debt or at risk of losing property due to lack of income or savings, has the means to manage or collect/earn money
Medicates utilizing the proper dosage and meeting all pharmacist-recommend requirements, does not self-medicate with illicit drugs or alcohol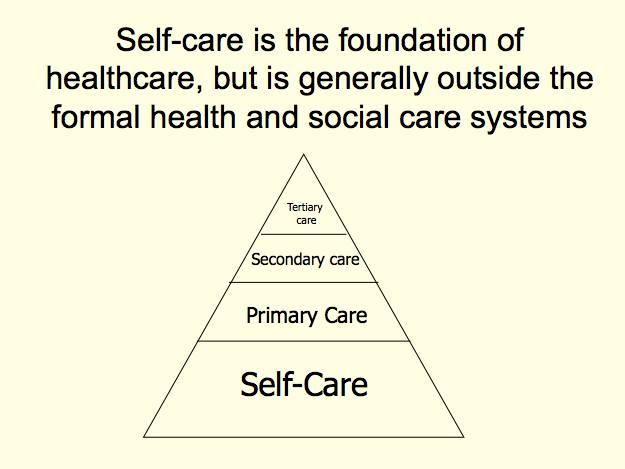 The pyramid above from isfglobal.org show the levels of care. Self-care is located at the bottom, forming the foundation of all types of care. Once self-care is compromised, primary, secondary, and tertiary care must be re-enforced for the best chance at a good quality of life. 
How Does Alzheimer's Affect Self-Care?
With damage to memory and cognitive function comes an inability to care for ones-self, but it's not always obvious that self-care is compromised. Lots of us young and old are forgetful, bad at directions, or can't remember our kid's birthdays. It's when Alzheimer's inhibits self-care that we need to consider different care options.
To better understand Alzheimer's and self-care, let's first look at Alzheimer's symptoms that are most common in patients.
Short-term and long-term memory loss
Difficulty forming words and communicating thoughts, needs, and problems
Diminished attention span
Impaired reasoning and judgement
A loss of visual perception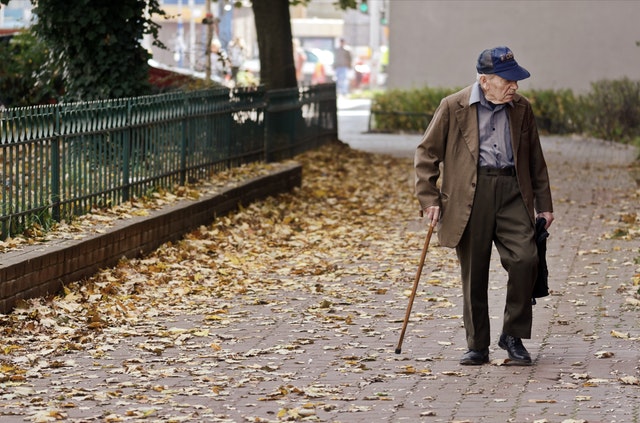 In the image above, a photo by Immortal shots from Pexels, an elderly man is seen walking alone in the city. For many with Alzheimer's, this regular activity can be difficult or dangerous.
Everyday tasks like driving to the store, making an appointment at the doctor, or even walking to the bathroom becomes impossible as Alzheimer's progresses. Knowing how impaired self-care has become helps decide on care options for Alzheimer's patients.
Check out the sections below to discover where Alzheimer's has the highest impact on self-care. Information in this section is from our recent article, Can Alzheimer's be Cured?
Memory
Memory is the most well-known symptom of the disease. Without the ability to remember, patients find themselves unable to remember places, events, people, directions, and tasks. Even words told to them seconds before.
There are many scenarios in which memory loss can affect self-care. Example are when you can't remember…
Family member names, and even one's own feelings or relationships
Important places like the grocery store, post office, or even one's own home address
Appointments and meeting times with Dr's, friends, and family members
Medication usage and proper dosage
Where items are located including medication, cleaning products, and telephone  
Communication
This is one of the most common symptoms of Alzheimer's. Difficulty speaking, forming words, or communicating needs can mean those with the condition can't request help or assistance, even in emergency situations.
Ability to Focus
Attention span becomes shorter and shorter as Alzheimer's progresses. This affects everything from conversations and work projects, to eating, cleaning, and using the restroom.
Reasoning
Reasoning and judgement aren't commonly discussed with Alzheimer's, but are a key reason those with dementia seek out additional care. 
From responding to new information, to making financial decisions, or even everyday tasks like getting dressed, reasoning and judgement are key to self-care. 
Visual Perception
Visual perception alteration is another lesser-known symptom of Alzheimer's that greatly affects everyday life. What starts as "clumsy" or "distracted" quickly becomes dangerous as the risk of falls and collisions rises.
For more information on mobility in seniors including why senior mobility is important to overall health, check out our recent article on improving mobility in elderly individuals.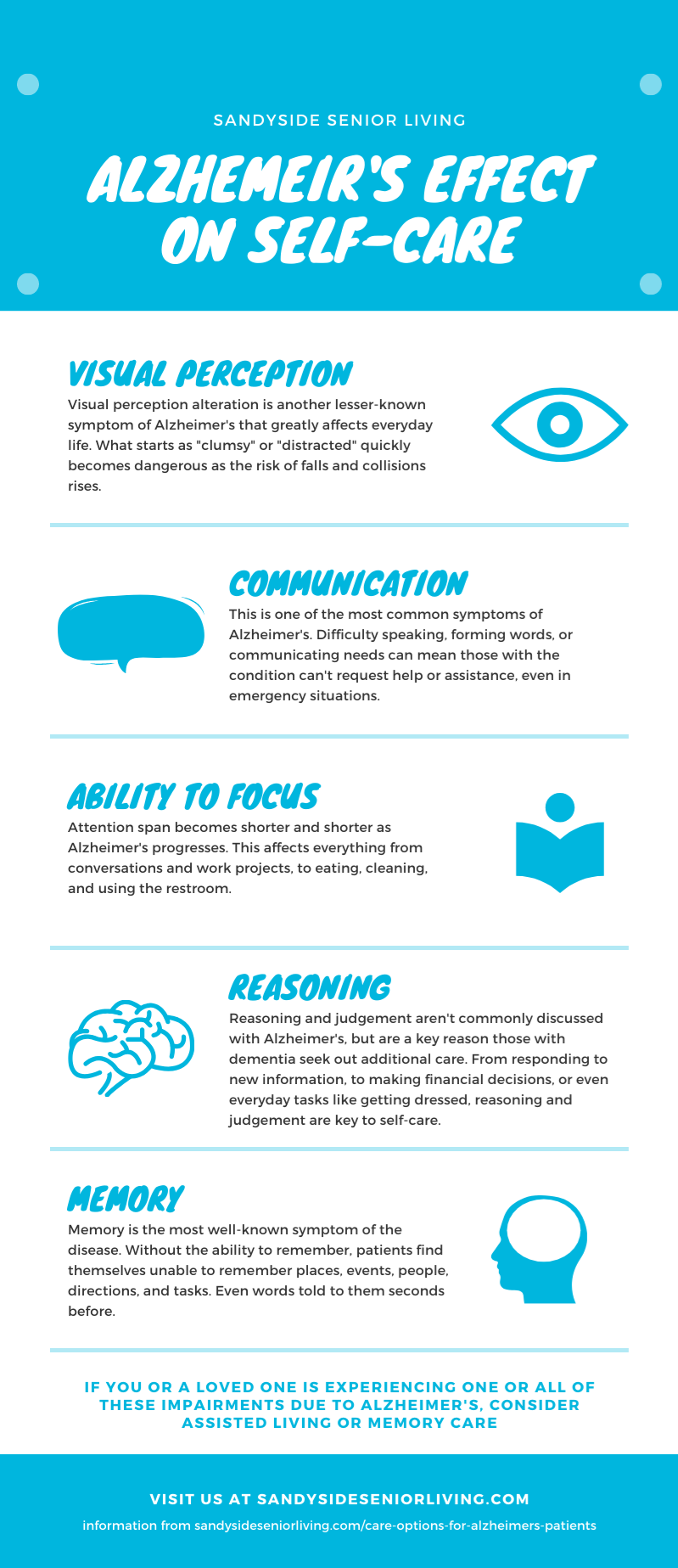 Best Care Options for Alzheimer's Patients
When it's time to consider care options for Alzheimer's patients, it means the condition has reached a point where self-care is not possible. This doesn't always mean you need to immediately opt for the most advanced care.
Care options depend on a few factors including…
Cost
Severity of the disease
Availability in your area
Family dynamic
And of course, what's best for the individual
What works for one person may not work for another, even with the disease in similar stages of progression. Check out the 5 options below to determine the best care option for your situation.
1. Memory Care Facility
A Memory Care Facility is a specialized assisted living center. Some assisted living facilities offer memory care along with housing and treating elderly individuals with multiple age-related illnesses. While other assisted living facilities DO NOT offer memory care.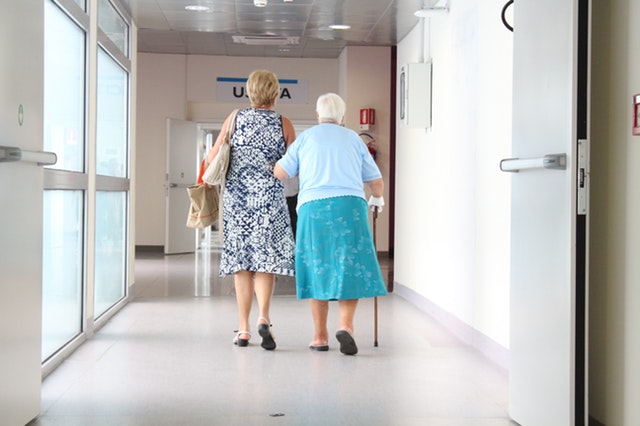 2. Nursing Home
A nursing home may not be the best option for elderly individuals with advanced Alzheimer's, but those in the early stages of the disease may find themselves comfortable and well cared for in a standard nursing home.
Nursing homes will not provide advanced care like in an assisted living or memory care facility, but do include amenities like…
24-hour care
trained staff
housekeeping
Community activities & events
These amenities make life easier for those with early-stage Alzheimer's and allow them to focus on treatment plans and good health. While nursing homes are a decent option, they generally are charged on a day-to-day basis as opposed to monthly. This is to make room for temporary residents recovering from surgery or injury. According to a Metlife study of long-term care costs, over time, the cost of a nursing home can almost double that of assisted living!
3. In-Home Care
In-home care is a great option for Alzheimer's care for individuals who are uncomfortable with the thought of leaving home. According to aging.com, depending on the type of caretaker, in-home care can include tasks such as housekeeping (dishes, dusting, general cleaning, laundry), meal prep, medication distribution, as well as personal care (bathing, dressing) for an individual.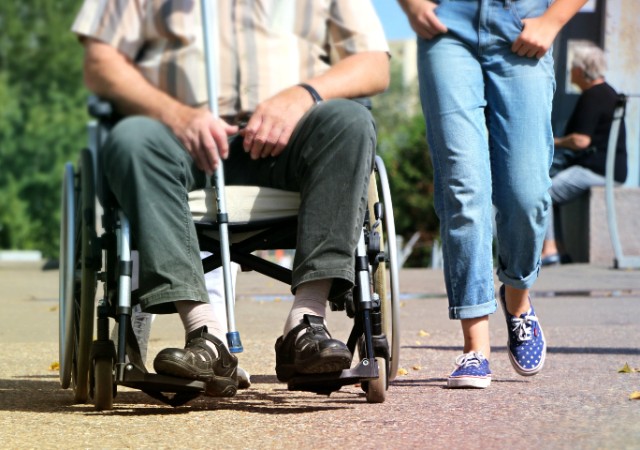 In-home care can include activities like walking and exercise. Image from Pxhere
While in-home care is a preferred choice, it is also the most expensive form of Alzheimer's care and offers the most limited care. According to an article by NPR, a home health aide costs $21/hour on average, with most working 2-8 hours at a time Monday through Friday.
Without the nurse/aide to assist outside of regular in-home care hours, family members are left providing care for a loved one with dementia in the morning, evening, or throughout the night. 24-hour care is possible, but at a rate of approximately $21/hour, 24-hour care can cost individuals upwards of $180,000 per year! Insurance or Medicare can sometimes assist with these expenses, but it is not always guaranteed.
If you wish to learn more about in-home care for seniors, aging.com created a great article breaking down in-home care including pros, cons, and cost.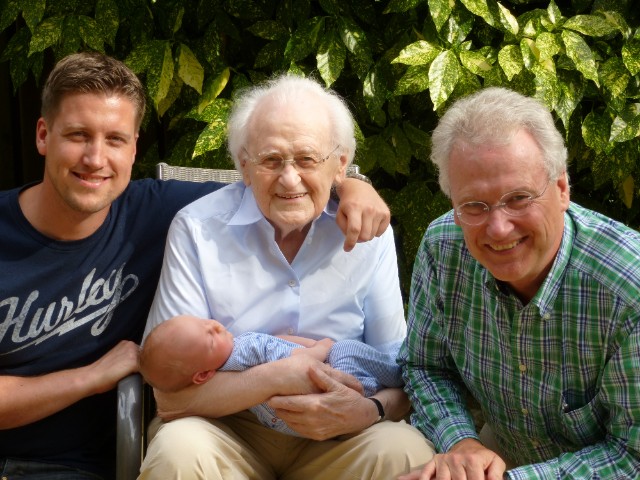 Family members sometimes choose to care for their loved one with Alzheimer's. Image from Pxhere
In the early stages of Alzheimer's disease, family members typically take on the responsibilities of care. This includes daily tasks like scheduling appointments, distributing medication, cooking, cleaning, and sometimes hygiene care. As the disease progresses, the care requirements become increasingly demanding. Advanced care may include tasks like:
Assistance using the restroom
Showering, brushing teeth, and cleaning up after instances of incontinence
Working with medical devices and tools including needles, IV's, catheters, and monitors
Providing assistance with mobility
Calming or restraining individuals during episodes of anger or extreme confusion
For the safety and well-being of all involved, it's best to consider additional care options for Alzheimer's patients once the disease has progressed to a certain point.
While it is an almost impossible choice to move a loved one into a senior care home, the social, monetary, and emotional effects of family care can cause extreme distress for all involved. This includes the family members, their children, spouses, and even the individual with Alzheimer's.
5. Adult Day Care Services
Adult Day Health Care is another great choice for those with early-stage Alzheimer's. These programs are optimal if the individual is still able to live at home, or is cared for by a family member.
These senior-only day care services are exactly as you'd expect, a place for seniors requiring supervision due to physical or cognitive impairments to meet during the day. Many of these programs are staffed by healthcare professionals and are funded by organizations like the Adult Day Health Care Council. Many Adult Day Health Cares are covered partially or fully by Medicare/Medicaid or Veteran's Benefits.
Social Adult Day Care
There is also Social Adult Day Care (SADC), which according to the ADHCC are structured, comprehensive programs that provide functionally impaired individuals with socialization, supervision and monitoring, personal care and nutrition in a protective setting during any part of the day, but for less than a 24-hour period.
Clients of Social Adult Day Care can include patients with mild disabilities, as well as those looking to decrease the effects of isolation through socialization. These programs provide things like travel, activities, meals, and snacks. 
Like Adult Day Health Care, SADC's are usually covered partially or fully by Medicare/Medicaid or Veteran's Benefits. 
How to Choose
Hopefully the information in this article will help you decide which is the best care option for you. Every Alzheimer's patient is different, and every family deals with dementia in their own way. If you're not sure which is the best next step, consult with a Doctor or experienced care taker who can gauge the progression of the disease and recommend a suitable option.
If you or your loved one are located in the Metro Detroit area and considering assisted living to help with mobility, we are here to help. Contact Sandyside Senior Living in White Lake, MI, today.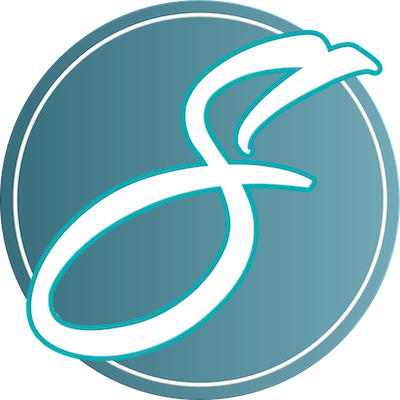 This information was provided by Sandyside Senior Living in White Lake, Michigan. Sandyside specializes in advanced care for seniors with dementia, Parkinson's, MS, and all age-related illness.
Interested in learning more about Sandyside Senior Living? Contact Sandyside online, or call at (248) 698-3700.
To get in touch with Sandyside Senior Living please complete the form below:
VISIT SANDYSIDE SENIOR LIVING TODAY
PHONE: (248) 698-3700